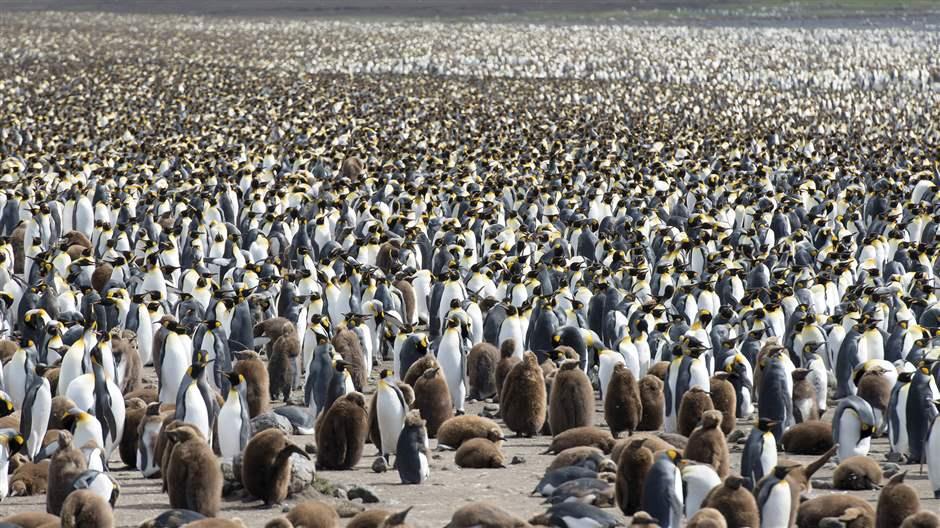 A remote French overseas territory offers huge opportunities for marine conservation
A proposal to significantly extend marine protections across the French Southern and Antarctic Lands (commonly referred to by the French acronym TAAF), an overseas territory scattered in the southern Indian Ocean that is home to a community of wild animals, continued to move forward in December when France concluded a three-week public comment period on the measure. The proposal, which can be finalized by ministerial decree, would expand the protected area by about 1 million square kilometers (386,000 square miles) and more than double the total area of ​​the country's highly protected waters globally.
The Pew Bertarelli Ocean Legacy Project submitted comments in support of the proposal and encouraged the French government to further expand the high protection zones.
According to the proposal, France would protect the waters around three archipelagos: the islands of Saint-Paul and Amsterdam, Kerguelen and Crozet. Collectively, the expansion would create by far the largest marine protected area (MPA) in French waters and would represent around 15% of the country's global Exclusive Economic Zone (EEZ). Additionally, if approved, the measure would more than double the percentage of France's fully protected waters globally, from 1.6% to 4% of the country's EEZ.
The proposal would protect ecosystems vital to exceptional biodiversity, with resident and migratory marine life including orcas, whales and several species of penguins, seals and tunas. For example, the archipelagos of Crozet and Kerguelen are respectively home to the largest colony of king penguins in the world and the second largest colony of southern elephant seals. And Amsterdam is home to the approximately 30 remaining breeding pairs of Amsterdam albatrosses, a critically endangered species found nowhere else on Earth.
Currently, the French Southern Territories National Nature Reserve protects an area covering 672,969 square kilometers (259,835 square miles) around the islands of Kerguelen, Crozet, Saint Paul and Amsterdam. The proposed extension would cover an additional approximately 1 million square kilometers (386,000 square miles) around Saint Paul and Amsterdam (approximately 490,000 square kilometers), Kerguelen (approximately 185,000 square kilometers) and Crozet (approximately 320,000 square kilometers).
Research shows that networks of interconnected and ecologically representative MPAs – with strong safeguards – are among the most effective ways to preserve and restore ocean ecosystems and make them more resilient to the impacts of climate change. In fact, high protection – where no extractive activity is permitted – is the only level that consistently results in significant ecological benefits.
A growing chorus of scientists, indigenous peoples and community champions, non-governmental organizations and government leaders say countries must protect at least 30% of the ocean by 2030 to help ensure long-term health term of our planet. More countries now publicly support this 30 x 30 goal, including through the Global Ocean Alliance and the High Ambition Coalition for Nature and People.
In 2019, French President Emmanuel Macron pledged to protect 10% of his country's waters by 2022. Despite these ambitious commitments, France lags behind other leading nations in marine protection in the world. world. For example, the UK has fully protected 39% of its waters; the United States, 23%; and, bravely, the Pacific island nation of Palau has highly protected 78% of its waters.
France's slow progress in marine protection is largely due to the lack of full jurisdiction over most of its territories. Local authorities in French Polynesia and New Caledonia, for example, have authority over their EEZs, which together represent around 60% of the French EEZ. In Clipperton Island, located in the Pacific Ocean 1,080 kilometers (671 miles) off the coast of Mexico, fishing permits signed with Mexico do not authorize new marine protections. In the Scattered Islands of the Indian Ocean, conservation efforts have been hampered by sovereignty disputes with Madagascar. As a result, TAFF offers the fastest and clearest opportunity for the country to create large, well-protected marine reserves.
Although the area proposed for the extended protections remains largely unexploited, commercial fishing is increasing in the area, and these waters could one day face significant fishing pressure if the newly proposed protections are not implemented. By safeguarding these waters, France would preserve exceptional biodiversity and make significant progress towards its ambitious marine conservation goals.
Jérôme Petit is based in France and directs the work of the Pew Bertarelli Ocean Legacy Project in French waters.