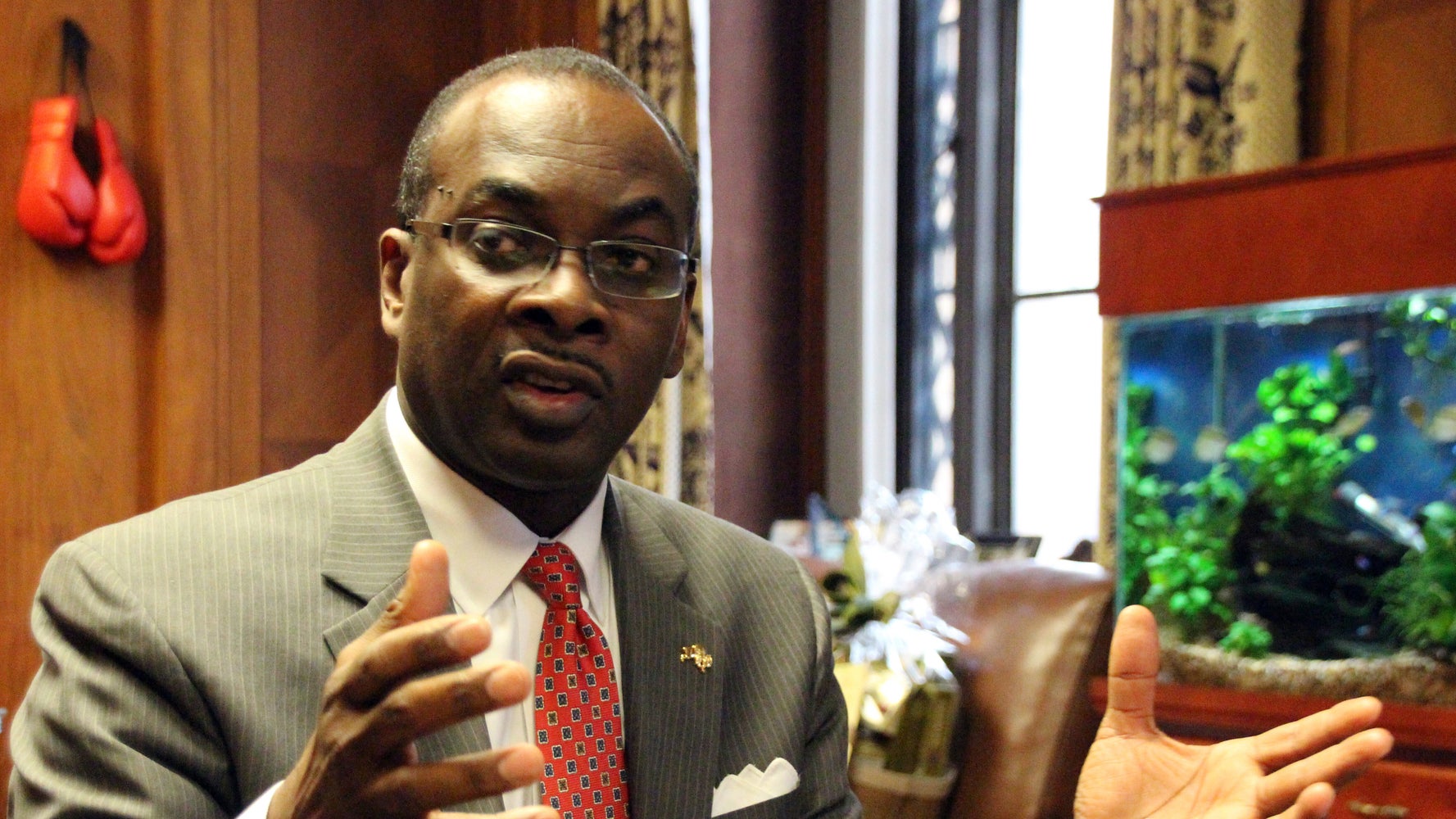 Buffalo Socialist India Walton to face Mayor Byron Brown's writing campaign
Democratic socialist India Walton caused astonishing upheaval in Buffalo's primary mayoral election last week, putting her on the verge of becoming the city's next strongly Democratic mayor.
If she wins, she will become the first female mayor and the first socialist mayor of New York City's Second City.
But now she has additional competition.
On Monday, Byron Brown, the incumbent who lost to Walton last week, announced he would launch a written campaign for the general election.
"Write Byron Brown," he said at a press conference Monday, adding, "Let's be clear that until November there is no elected mayor. There is only one mayor of Buffalo, and that is Mayor Byron Brown.
Brown's loss came as a shock to many Buffalonians. While Walton had the backing of the powerful Buffalo Teachers Union, Brown raised a lot more money, supported by the business community and Democratic politicians. He is a four-term holder and a close ally of Governor Andrew Cuomo (DN.Y.).
There is no Republican candidate for the November ballot. Since his loss, Brown has been considering a campaign in writing. Carl Paladino – a local businessman, Trump-style conservative and former GOP gubernatorial candidate – has said he will launch a written campaign if Brown does not.
In one declaration On Monday, Walton tied Brown to the Tory lightning rod.
"Brown can try to distance himself from Paladino as much as he wants, but it's clear who really is behind this campaign," she said. "We urge Brown to accept the will of the voters, end this futile campaign and help us work for a smooth transition. It would be a shame if Brown ruined his legacy by teaming up with right-wing real estate developers in this unnecessary effort. "
Brown's decision now puts local and state Democratic leaders, who pledged to support Walton after his victory, in the hot seat. They have to decide how much support they will really give Walton, when many of them preferred Brown in the primary.
Erie County Democratic Committee chairman Jeremy Zellner told WIVB-TV in Buffalo the party will not be backing Brown in his writing effort.
Shortly after Brown's announcement, Zellner also posted on Twitter a photo of him with Walton after a meeting they had at party headquarters on Monday. "We are with her, now and during the general election in the fall," he said. tweeted.
For their part, local Republicans expressed sympathy for Brown, suggesting that his way back to town hall could be through a coalition of Democrats and centrist Republicans, who could not vote in the Democratic primary on the 22nd. June.
Asked about Brown's writing campaign, New York Republican Party Chairman Nick Langworthy, who previously led the Erie County GOP, says Politico, "A lot of people I know strongly support him and urge him to continue."
In an interview with a local radio station after his announcement, Brown would not categorically have eliminate accept official Republican endorsement in his race.
And in an effort to illustrate that written campaigns can be competitive, Brown highlighted the 2010 success of Senator Lisa Murkowski, a Republican from Alaska, and the 2013 victory of Detroit Mayor Mike Duggan, a Republican-turned-Democrat. .
Additionally, Brown, who didn't bother to debate Walton in the primary, on Monday announced a more conservative and combative tone he plans to use against Walton in the general election. He indulged in "red bait" – an explicit appeal to the fears of people in the Cold War era regarding socialism, mistakenly suggesting that Walton's brand of "democratic socialism" is incompatible with democracy.
"There is a huge fear that has spread in this community, people are afraid of the future of our city. They fear for the future of their family, "said Brown. "They fear for the future of their children, and they told me they don't want a radical socialist to occupy the mayor's office at Buffalo city hall."
"We know the difference between socialism and democracy," he added. "We will fight for democracy in the city of Buffalo. "
Walton, an impoverished single mother turned registered nurse, labor activist and community organization leader, has come forward against Brown to ensure there is more affordable housing and police accountability in the city.
Brown has come under criticism from progressives and residents of the predominantly black, low-income East Side of Buffalo for presiding over gentrification that these critics say did not benefit pre-newcomer communities.
"As a career politician I think he's a bit detached from how people feel on the ground," she said after announcing her candidacy in December.
Brown defended his record on Monday, bragging about leading the most racially diverse administration in Buffalo history and slashing the city's tax rate to its lowest level in 25 years.
Brown has also preemptively sought to refute the idea that his written candidacy would undermine the will of Democratic primary voters who have previously nominated Walton. He claimed less than 20% of registered Democrats voted in last Tuesday's primary.
In fact, it was just over 20% of voters, not counting the postal ballots that have yet to be counted. Even 20% is not extraordinarily low by Buffalo standards; Brown won the primary in 2009 with a 20 percent Democratic turnout.
The New York Working Families Party, which played a pivotal role in Walton's main victory, argued that Brown's decision to run in the general election reflected a refusal to respect the will of the voters.
"We have seen the damage done to our democracy when leaders try to override the will of voters," New York WFP director Sochia Nnaemeka said in a statement. "We hope Byron Brown – one of the state's top Democrats – does not align himself with Carl Paladino and billionaire real estate interests in rejecting the outcome of this election."
Calling all HuffPost superfans!
Sign up to become a founding member and help shape the next chapter of HuffPost