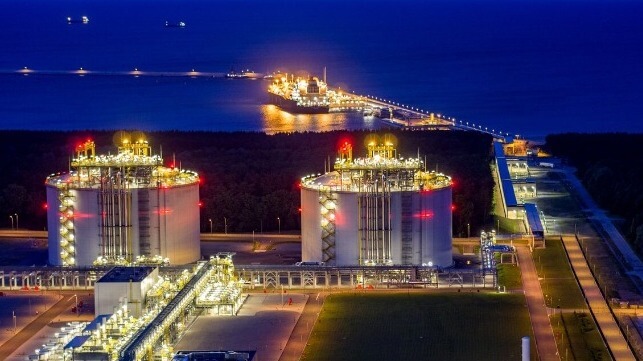 Can LNG replace Russian gas in Europe?
European LNG imports hit a record high in January 2022 and could increase a bit if gas supply from the Russian pipeline drops or even shuts down altogether. But Europe's best-connected LNG terminals are already operating at high tariffs, and limits on cross-border gas pipeline capacity would limit the wider benefit of higher imports in some countries, such as Spain.
For LNG to represent a much larger structural part of the European gas mix, additional import infrastructure is likely to be needed, such as the renewed plans for German import terminals. Expansion of existing LNG terminals is another option.
The Dutch Gate and Belgian Zeebrugge terminals are to be expanded by 2024 and the Polish terminal by 2023. But neither of these options provides an immediate solution to a major gas shortage and more capacity does not necessarily lead to more supply. Much of the LNG in Europe is supplied on a flexible basis and will be shipped to other parts of the world unless European prices are attractive.
One solution is to sign firm LNG delivery contracts that would guarantee volumes. But that can come at a high price and limit buyers' flexibility as European gas demand drops. All this without taking into account the important role that Russian LNG in Europe has come to play alongside Russian pipeline gas.
Share of LNG in Europe
The share of LNG in the European gas supply mix has fluctuated a lot in recent years, sometimes as low as 7%, but in January 2022 it reached an all-time high of 32%. European LNG imports hit a record high of 9.53 million tonnes in January 2022, according to data from ICIS LNG Edge.
February European LNG imports (as of February 28) are now the second highest on record in a month, at 8.14 million tonnes.
Terminal capacity
On the surface, there is plenty of capacity available to bring more LNG to Europe. The utilization of European LNG terminals, excluding Turkey, stands at 67% since the beginning of the year, according to ICIS LNG Edge. Although this rate is well below the maximum rates, it is significantly above the average of the last 12 months of 49%.
With the drop in Russian pipe gas in recent months and high European gas prices, more LNG has arrived at European terminals, especially from the United States. The total operational LNG import capacity in Europe is just over 156 mtpy, which equates to 13 million tonnes per month, almost 3.5 million tonnes (or 36%) more than 'in January.
A 100% LNG terminal utilization figure would have taken LNG's share to 40% of the January European gas supply mix, if other supplies remained unchanged.
In other words, even at maximum levels, it would not come close to replacing Russia's share of pipeline gas. But 100% utilization will never be achieved. Several key import terminals in northwestern Europe have already operated at maximum rates so far this year. These include the Dutch Gate, French Montoir, Belgian Zeebrugge and UK Dragon terminals, according to ICIS LNG Edge data.
Those who could bring in more LNG are often not well connected to the wider European gas market, which would limit the benefits of additional LNG imports. Five of the least used terminals this year are in Spain, which has the largest LNG import capacity in Europe. Spain can only export pipeline gas to France. The maximum daily flow from Spain to France is 20 million cubic meters, which generally corresponds to the maximum daily output from a single LNG terminal. Spanish LNG therefore has no major route to the higher centers of gas demand in northwestern Europe. However, Spain could hold more LNG in tank, which could then be reloaded and transported to other terminals in Europe.
Russian LNG
In LNG import figures, Russia now holds a larger share after the start of the Yamal LNG export plant in 2017. In 2021, Russian LNG was the third largest supplier in Europe, behind the United States. United and Qatar. Just over 18% of European LNG was supplied by Yamal in 2021, according to ICIS LNG Edge. While Russian pipeline gas volumes have fallen, this has actually been offset by the strength of Russian LNG. This again underlines how integrated Russian energy is into the European market.
Yamal LNG is majority owned by Russia's Novatek. The French Total Energies, the Chinese CNPC and Silk Road Fund also hold shares.
Qatar will sharply increase its LNG production in the 2020s, and new projects are expected to boost US LNG production, but global LNG production growth is limited over the next two to three years.
Ed Cox is Head of Global LNG at ICIS.
The opinions expressed here are those of the author and not necessarily those of The Maritime Executive.