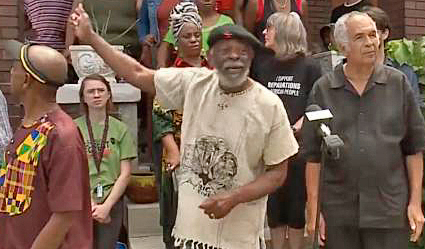 FBI protest raids against African People's Socialist Party, Uhuru – The Militant
By Helen Meyers
October 17, 2022
MINNEAPOLIS — Thirty people attended an Oct. 1 meeting here to demand, "Hands Off the Uhuru Movement: Stop the FBI Attacks on African People's Socialist Party, African People's Solidarity Committee, and Freedom Movement groups." Uhuru solidarity. The meeting was organized by Uhuru to oppose the FBI's pre-dawn raids on the offices and homes of leaders and members of the Socialist African People's Party and Uhuru on July 29 in St. Petersburg, in Florida and St. Louis, claiming the groups are unregistered foreign agents of Moscow.
African People's Socialist Party chairman Omali Yeshitela, above center, described how armed FBI agents, backed by local cops, used battering rams to kick down doors and threw flash grenades. Brandishing automatic weapons, they handcuffed those present at gunpoint, while officers seized laptops, financial documents, office equipment and files.
Gabrielle Prosser, Socialist Workers Party candidate for governor of Minnesota, attended the meeting with a campaign statement against the raid.
"The Socialist Workers Party campaign condemns the FBI's violent and armed raids on the African People's Socialist Party and Uhuru," the statement said. "The use of political policing by the ruling class and its government – ​​this time by the Biden Democratic Party administration – is a deadly threat to the democratic rights of the working class. We must all act according to the union motto: "An injury to one is an injury to all!" »