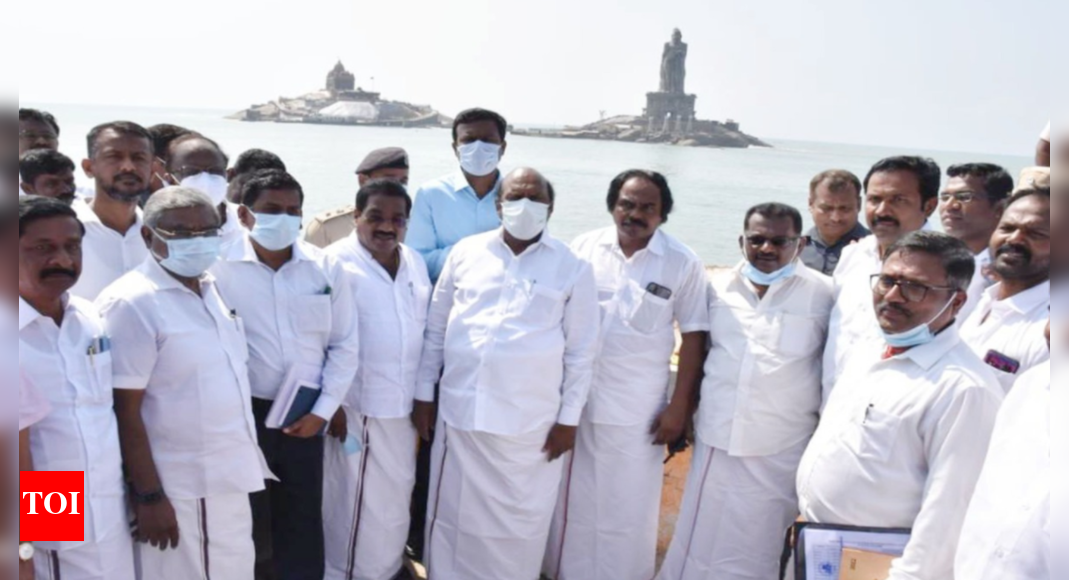 Glass bridge between Vivekananda rock and Thiruvalluvar statue in Kanyakumari to be completed in a year: Minister | Chennai News
KANYAKUMARI: The glass bridge project linking Vivekananda Rock and the Thiruvalluvar statue in Kanyakumari would be completed in 12 months after the bidding process is completed, the Public Works Department (PWD) and the state highways minister, EV Velu.
Speaking after inspecting the site of the bridge, the minister said the tender had already been launched and would be open for 45 days for contractors to show interest in the 37 crore project.
The previous government proposed to build a bridge 140m long and 7.5m wide to connect the two rocks located in the Indian Ocean. Velu said it was a waste of economic resources and a study conducted by the chief engineer of the PWD found that the two iconic rocks could be connected by a 72m long bridge. It was proposed to IIT, which in turn approved the 10m wide bridge.
He said he would be assured that rough seas do not cause damage to the bridge and the safety of tourists is also ensured when the construction is completed.
The minister also said that the 133ft tall Thiruvalluvar statue which was established during the DMK regime has not been maintained during the AIADMK regime for the past 10 years. The CM has commissioned the preparation of a detailed project report to carry out the maintenance of the statue, he added.
Velu also inspected repair works carried out on highways and major district roads that were disconnected by torrential rains and floods in Kanyakumari district last year.