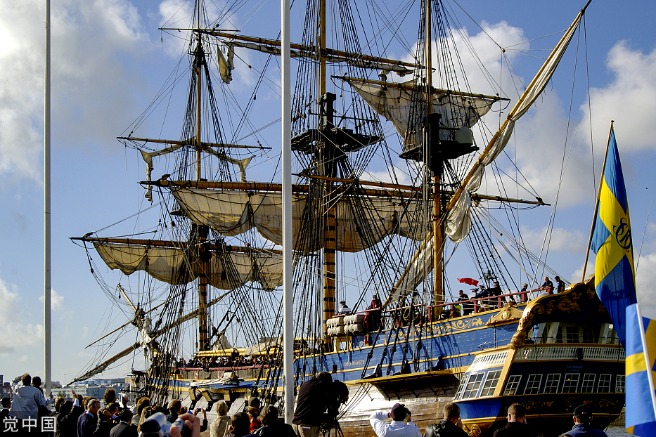 Have a nice trip to Gothenburg
Gotheborg of Sweden, the largest wooden ocean-going sailing ship in the world, is now setting sail again, attracting considerable attention wherever it goes. After departing homeport on June 8, 2022, Gotheborg cruised northern Europe and the Baltic Sea, planning to cross the North Sea after a few Mediterranean rendezvous during the winter of 2022/2023 and heading for the Indian Ocean via the Suez Canal. for finally Shanghai before the fall.
Good stories are worth telling, especially the story of Gothenburg. Open-mindedness and pioneering spirit drove these precursors from Gothenburg for a long time until they made their name known to Eurasians. As early as 1740, a group of sailors risked their lives to pave the way for widespread European engagement with the trade network known as the Maritime Silk Road. The very first contact sowed the seeds of the people-to-people relationship which was formalized by the memorandum of cooperation between Gothenburg and Shanghai in 1986, and transformed into sister-city relations in 2003, enhancing mutual cooperation from trade to sports.
A sister city or friendship city relationship is a form of social agreement between two geographically and politically distinct localities with the aim of promoting cultural and commercial ties and has therefore been encouraged by the UN and adopted nationwide. world. The modern concept of town twinning has its roots in the Second World War, when bonds of solidarity between cities of allied countries were established in response to battles. Similar ties have been continually created to foster friendship and understanding between former enemies as an act of post-war peace and reconciliation. The purpose of the twinning then broadened to encourage trade and tourism, to form strategic international business ties and, especially in recent years, to combat COVID-19 by mutually supporting response and recovery efforts. .
Unfortunately, in 2020, Gothenburg authorities, driven by political motives, unilaterally announced the end of their relationship as a city of friendship with Shanghai, starting from the determination to form a united front in the face of the common crisis and abandoning the intention initial of this twinning partnership. However, some people's intention to politicize people-to-people relations can neither undo the efforts of the majority of the two peoples nor cloud the 34-year-old friendship between them.
Public interest in shipwreck archeology prevailed throughout the 1980s and 1990s, reviving the glory of Gothenburg, which sank on a reef returning from China with loads of china, silk, tea and all kinds of hot sellers when the maritime trade was in full swing. Since then, reviving the ship and returning to China has become the constant wish of the Swedes as part of their vision of the Far East.
Construction of the replica began in 1995 with the hull launched in 2003. In 2005, the ship was greeted with cheers after its 10-month adventure when Shanghainese people flocked to port to view it. Shanghai's warm hospitality was hard to refuse, and Gotheborg extended his stay there again and again. A ship from afar has become the bridge between the two peoples and the symbol of their years of friendship.
The common development of human society takes shape with cooperation and interconnection between countries and regions. As between Shanghai and Gothenburg, the fruitful exchanges and collaborations within the framework of the friendship city relationship have witnessed comprehensive development, with increasingly deep mutual trust and understanding and cooperation in various fields continuously expanding in areas such as energy, economy and trade – the inauguration of Volvo's first-ever overseas research and development center battery laboratory in Jiading district, increased investment from Chinese companies represented by Geely in Gothenburg… If you are a sports enthusiast, you must have been impressed by Tobias Hysen, who scored 19 goals and made 10 assists in 28 games for Shanghai SIPG. If you learn that Hysen was from Gothenburg, you might see more of the relationship between the two towns and their people and appreciate it better.
Shanghai has so far forged twinning partnerships not only with Gothenburg but with almost a hundred places and continues to receive offers from all sides. And since 2020, together with Barcelona, ​​Oslo, Milan, Hamburg and many other cities, Shanghai has been developing a roadmap and advancing these solutions to recover from the shocks caused by the pandemic. It is because we all deeply understand that we are at a critical moment in human history that would be a turning point as well as an opportunity to write the next chapter together and create shared prosperity for all and with all.
We therefore look forward to Gotheborg's return to Shanghai, the reinvention of a model of cooperation that spans areas from trade to sports and beyond.
Have a good trip to Gothenburg. We wish him a great adventure. And we will be waiting for it with warmest cheers here in China.
Zhu Rui works at the Institute of European Studies of the Chinese Academy of Social Sciences.
The opinions expressed here are those of the author and do not necessarily represent the views of China Daily and the China Daily website.
If you have specific expertise or want to share your opinion on our stories, send us your writings to [email protected] and [email protected]