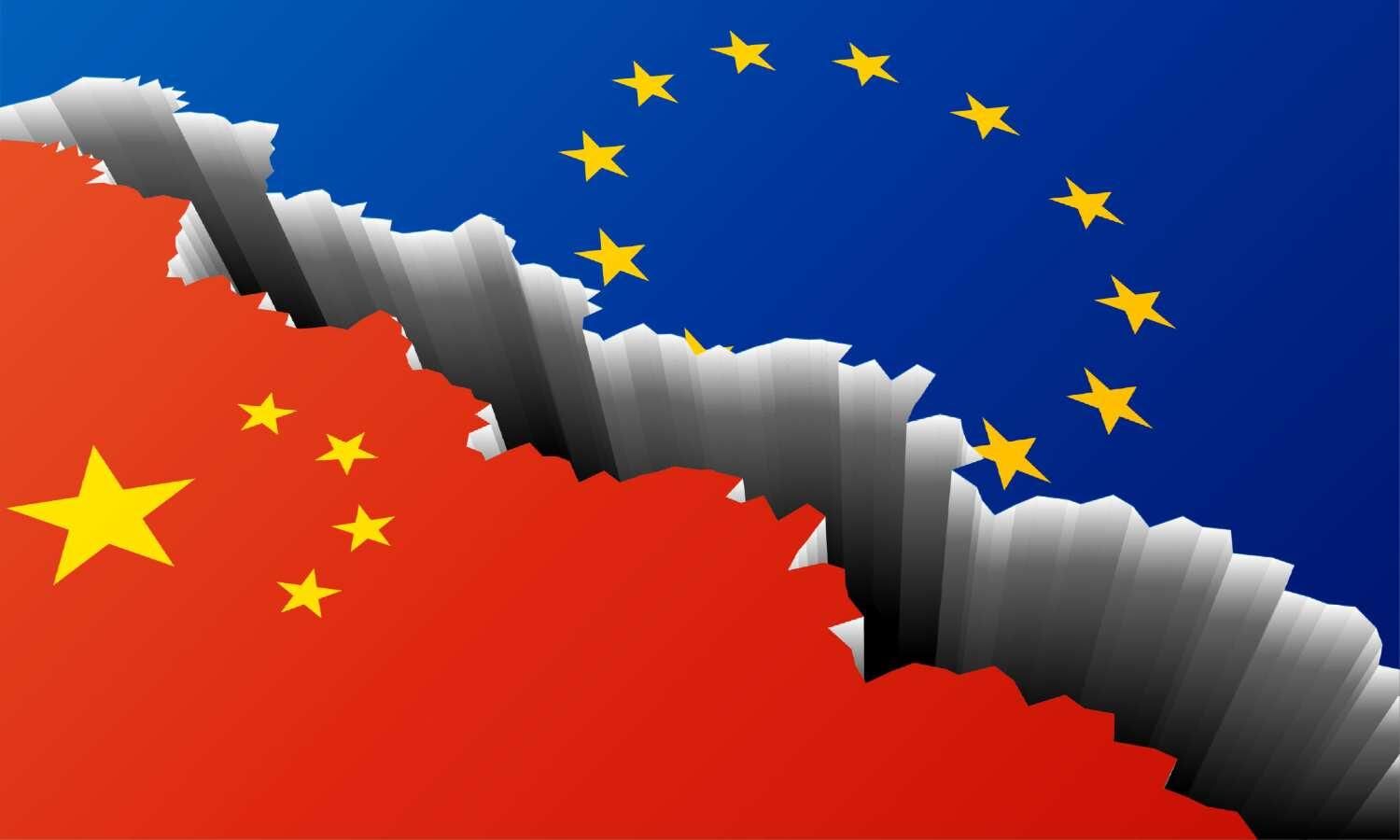 How does the Russian-Ukrainian conflict affect Sino-European trade?
The Russian invasion of Ukraine raises logistical challenges between China and Europe. Global transport is already hampered by the Covid virus, and the #Russia-Ukraine conflict could worsen the situation.
Rail freight transit, in addition to air and sea freight, is becoming an increasingly attractive mode of transport between China and Europe, as rail freight transit is more efficient than sea freight and cheaper than air freight.
Backed by investment from the Chinese government, rail freight transit allows goods from northern and central China to be delivered directly to various countries in Europe, in some cases with last-mile delivery by truck or by short sea routes.
Andre Wheeler, an author on China/Asia geopolitics and socioeconomics and a specialist commentator, explains to the STAT Trade Times China's position in the Russian-Ukrainian crisis.
"Rail is an important trade corridor for China, with Ukraine being an important signatory of the Belt and Road Initiative (BRI). The dispute will disrupt trade, but other BRI participants will watch the China with keen interest, as this will demonstrate the true breadth of China's win-win philosophy and commitment, raising the question of whether China is there only for itself."
Air freight was restricted and sea freight became too dangerous. So why is this disrupting China-Europe trade?
Rail freight China – Europe now
Following Russia's invasion of Ukraine, some rail freight industry players declared either the start of re-routing for ongoing transit or the temporary suspension of operations between China and Europe until new order.
Ryan Petersen, founder and CEO of Flexport, said the company will no longer accept Trans-Siberian rail reservations between China and Europe. Trans-Siberian rail freight routes from Asia pass through Russia, merge at the borders of Belarus and Poland, and then reach Central and Western Europe.
"Flexport has stopped accepting bookings on our China-Europe Trans-Siberian rail service with immediate effect. All containers en route will be delivered. As of now, the rail is operating as normal, but customers with containers currently on the rail will be informed immediately if this changes.
"We thank our many customers who have used this service over the years as a cheaper alternative to air freight and a faster alternative to sea freight. These customers will be presented with both of these options in the future," Peterson said on his LinkedIn post.
DSV Global Transport and Logistics has announced the rerouting of freight trains from Asia to Europe.
The world knows that Russia and China have enjoyed a healthy relationship since the late 1950s. China remains Russia's top import supplier, with cellphones, computers, telecommunications equipment, toys, textiles, clothing and electronic parts among the main categories.
Ukraine on the China-Europe trade route
Ukraine was an early signatory of China's Belt and Road Initiative (BRI), providing an important economic and trade corridor for China-EU trade. BRI is a global infrastructure development project set up by the Chinese government in 2013 to invest in around 70 countries and international organizations.
It is considered the heart of Chinese President Xi Jinping's foreign strategy. Ports, skyscrapers, railways, highways, bridges, airports, dams, coal-fired power plants and railway tunnels are some of the infrastructure developments carried out by the Belt and Road initiative.
Nearly 80% of China's trade with the EU passes through Ukrainian territory. "China currently depends on the EU for 10% of its export volume, compared to 4% for Russia," says Wheeler.
"Notably, China imports 22.4% of its volume from the EU. This would weaken China's recovery and reduce China's rate of recovery well below the already lower estimate of 4% GDP growth.
Over the past few years, Ukraine has been striving to re-establish its place on the New Silk Road. According to Rail Freight, RZD Logistics said transit via Ukraine accounted for 2% of New Silk Road westbound container traffic volumes in 2021. This figure has increased since 2021, demonstrating the growing importance of the country.
In addition, Chinese President Xi Jinping stressed the importance of Ukraine to China's BRI in January 2022. In a letter to Ukrainian President Volodymyr Zelenskyy, he stressed the importance of "growing strategic cooperation Sino-Ukrainian" and the Silk Road. With the outbreak of the conflict between Russia and Ukraine, the situation was reversed, leading to a new status quo.
Russia and Ukraine EXIM
Russia and Ukraine are the world's largest producers of metals such as nickel, copper and iron. They are also heavily involved in the export and production of other critical raw minerals such as neon, palladium and platinum.
The fear of sanctions against Russia has driven up the price of these metals. Palladium, for example, has a current selling price of around $2,700 an ounce, up more than 80% since mid-December.
Palladium is used in a variety of applications ranging from vehicle exhaust systems to cell phones to dental fillings. The costs of nickel and copper, which are used in manufacturing and construction, have also increased. The aerospace sectors in the United States, Europe and the United Kingdom all depend on the supply of Russian titanium.
Since 2011, frequent rail freight connections have developed between China and Europe. While rail carries only a small portion of global freight between Asia and Europe, it has been vital during recent bottlenecks and is slowly growing. Trains are being rerouted from Ukraine and rail freight specialists hope delays will be kept to a minimum.
Sanctions against Russia are expected to have a significant impact on rail traffic in countries like Lithuania. Even before the invasion, shipowners began to avoid the Black Sea trade routes, and insurance companies demanded advanced notice of such excursions.
Although Black Sea container shipping is a relatively small business globally, Odessa has one of the major container facilities. If Russian forces stop it, the impact on Ukrainian imports and exports could be significant, with potentially disastrous humanitarian repercussions. The rise in oil prices following the war is a source of concern for maritime transport in general.