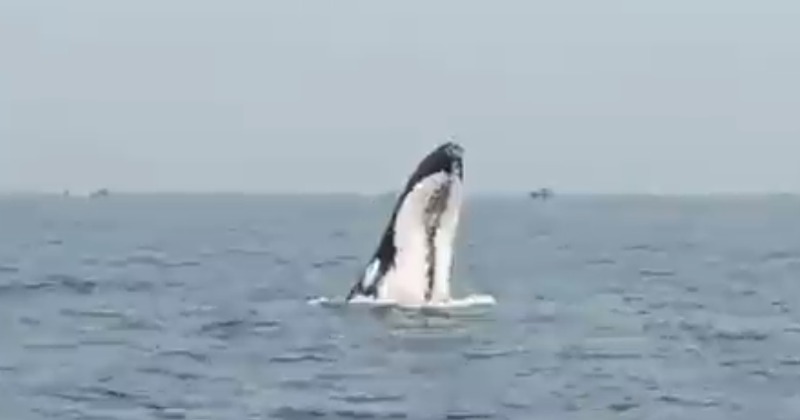 Humpback whale found near the Arabian Sea coast
After two full years, the critically endangered Arabian Sea Humpback Whale (ASHW) has been sighted in the Arabian Sea off the coast of Bhatkal.
However, people who got to see this beautiful creature not only got a taste of this rare breed, they got to see its presence for over an hour in the shallow waters of Bhatkal.
The sighting was also captured by a local fisherman who is also a resident of Bhatkal. In the video, the humpback whale was visible in all its glory where you can see how playful it is.
Humpback whale sighted #Bhatkal coast.

Humpback whales typically migrate up to 25,000 km each year, and an adult adult can weigh up to 36 metric tons.

Anyone interested in whale watching tours? 😀#VisitUdupi#VisitUttarakannada pic.twitter.com/pHW8by8AIY

– Visit Udupi (@VisitUdupi) 20 November 2021
Fisherman named Lokesh Monger shared his experience of spotting and catching the playfulness of the rare whale. He said New Indian Express, "I have seen whales in the sea regularly. I have been fishing for 18 years. My first whale and dolphin watching started 15 years ago. But it was something unique and I never had seen this before. Not just me, even other fishermen when I showed it to them, we are unable to identify it.
Lokesh, also known as Loku, mentioned that he followed the whale wherever it was sighted: "Wherever these species are, there will be a lot of fish. It was the same with this species too. I thought it might be a normal fish, but when I got close it was very huge, bigger than my deepwater fishing trawl, "he said.
Part 2: Humpback whale sighted #Bhatkal rating. pic.twitter.com/at8S3xj4nY

– Visit Udupi (@VisitUdupi) 20 November 2021
Loku also mentioned how the local whales that emerge each year look like a rabbit in front of the gigantic endangered humpback whale he saw. He also mentioned that the waters are completely shallow at around 100 meters.
Internet users also loved the video and the observation.
??

– Ranjaln Chacko (@RanjalnC) 23 November 2021
NS

– noothan kaliveer (@dabu_kaliveer) 23 November 2021
Great

– Sharath Narayan (@chathoos) 23 November 2021
Beautiful

– Syed Maqbool (@maqbool_sm) 23 November 2021
Wow! Such a nice

– Sachin M Kumar (@ SachinMKumar3) 20 November 2021
Although the estimate of the total population of ASHW within their range is unknown, it is likely that the overall Arabian Sea population currently contains less than 250 mature individuals. Geographical isolation, combined with negative interactions with human development, is considered a significant deterrent for the recovery of this population.
According to reports, Arabian Sea humpback whales are genetically isolated and are considered a new evolved subspecies in the Indian Ocean. They evolved from other populations in the Indian Ocean around 70,000 years ago.
The humpback whale is considered the sixth largest whale in the world and can be up to 16 meters long. The blue whale, fin whale, sperm whale, right whale, and wowhead whale are the other five largest whale species.
It's great to see such rare sightings in the country.
For the latest trends, click here.