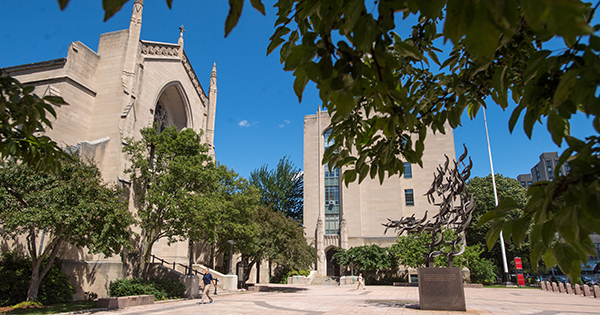 Marsh Chapel Reopens to Worship and In-Person Events | BU today
Something unusual happened last Sunday in Marsh Chapel when Reverend Robert Hill welcomed his flock to the 11 a.m. interfaith service.
People were sitting on the benches to listen.
The moment marked the long-awaited resumption of in-person attendance, ending the all-virtual worship forced by the pandemic from March 2020. Marsh's annual enrollment service welcoming new students will also be in person this Sunday, August 29. At 11 o'clock. , kicking off an autumn of regular Sunday gatherings and special liturgies and events.
"After 18 months in the Diaspora, we are at home, at home again," said Hill with delight at the start of the service last Sunday.
Still, the Delta variant of the virus, which is raging in Massachusetts and the country, will constrain the reopening. Worshipers are required to wear masks and are asked to be vaccinated, and Sunday day care and post-service refreshments remain suspended for now.
"We hope to get back to them soon," Hill said BU today, "but we are moving step by step." There will be no capacity limit or social distancing per bench, he adds, in accordance with the chapel's compliance with the COVID security protocols of the BU.
In his August 17 newsletter, announcing the return to in-person presence, Hill included a caveat: "All of this and more must of course be described with our favorite adverb still present, 'tentatively.' given current conditions and their potential changes. . "
Even so, a devotee who relies on technology to hear the cult of Marsh (which is broadcast on the internet and WBUR, BU's NPR station) applauded the bulletin's announcement. A New Jersey executive assistant attorney general and member of Marsh's advisory board emailed Hill, writing that he and his family "can't wait to go home to worship" on their next visit to Boston.
In addition to Sunday registration and worship, fall events planned by Marsh include the resumption of the Eucharist on the first Sunday on September 5; a special liturgy on Saturday morning September 11 to commemorate the 20th anniversary of the terrorist attacks; an outdoor catered lunch and ordination of Jessica Chicka (STH'07, '11, '17), the University's chaplain for international students, on September 12, when she preaches; a fall sermon series, Questions of Faith, starting September 19; the first of three autumn Sundays with music by Johann Sebastian Bach on September 26; and the Baccalaureate service of the 2020 class on October 3, postponed from last year by COVID. (October 3 is the first Sunday of the month, but there will be no Eucharist at the Baccalaureate.)
The chapel will also host weddings, memorials and other services in the fall, which will be detailed on the Marsh website. "We had a tidal wave, an avalanche of things that we hadn't done in 18 months," says Hill.
The resumption of on-site worship before the big registration event was an intentional dress rehearsal, Hill says. "We haven't done this for 18 months, so we're a little rusty. This [was] kind of a preseason game or shakedown cruise, a chance to sort out some issues. "
It's likely that weekday activities in Marsh, such as tai chi, Buddhist meditation, and yoga, will be held in person while also continuing on Zoom, which has expanded participation during the pandemic. While "our full in-person programming at Marsh will start again," Hill promises, "there will also be some hybridity, if I can use that word. We are not sure yet how we are going to proceed.
"In what we do in religious life, real presence is the name of the game. One of the dangers of Zoom is that it can be a place where certain things will die, like shade. Like humor. As a happy coincidence. Like physicality, body language, real presence.
The first hymn the congregation sang together last Sunday was Immortal, Invisible, God Alone Wise, who, even in difficult times, gives thanks for "your righteousness, like mountains rising above."