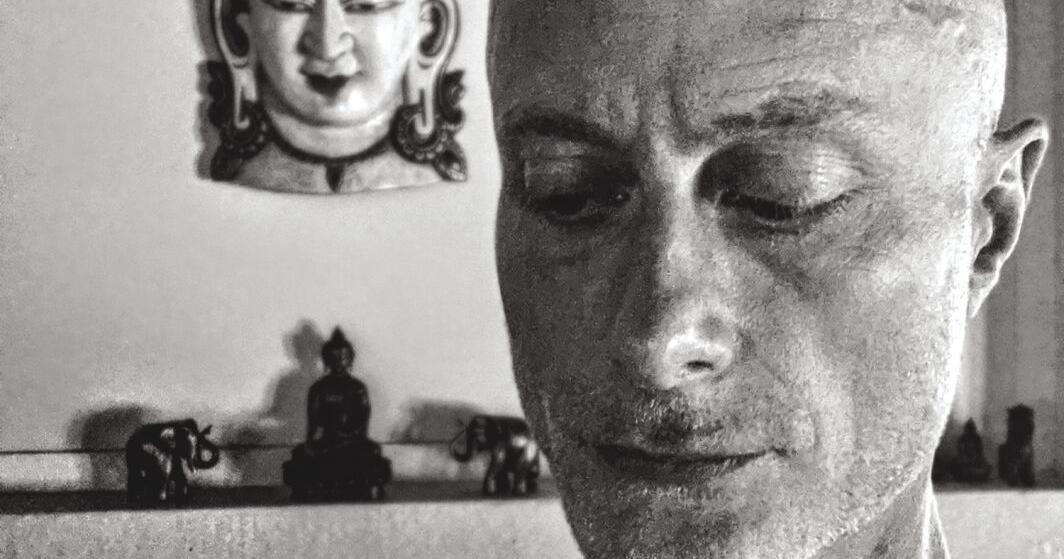 Meet the Author: Local Yogi Writes Spiritual Fiction Novel "Waiting Impatily" | Cobb Life Magazine
Andrew H. Housley knows what it's like to go through tremendous change.
Housley, who grew up in Cobb County and graduated from Walton High School, is a yogi, IT professional, artist, singer-songwriter, master gardener, spiritual teacher, adventurer , a poet and, more recently, an author.
This year, Housley published his first novel "Waiting Impatily", a tale of one man's spiritual metamorphosis. Published by Atmosphere Press, the story follows Ian, a well-honed yoga teacher and Zen student, on the precipice of his life. As the world begins to shut down in the face of a pandemic, Ian tries to accept the gift of self-examination while burying the pieces of his painful past.
Through Ian;'s journey, the reader is offered a unique and poignant perspective of one man's internal struggle with 'self'. In a desperate moment, he arrives at the Monastery, a place where time stands still. Here he finds comfort to soothe his soul and ponder the Zen riddle: "Can you manifest your true nature while gazing at the pieces of your broken heart?"
Housley lives and teaches around Atlanta. He has been practicing yoga for over 20 years. He is affectionately nicknamed "The Machine" for his ability to push himself with single purpose to achieve any goal he sets for himself. To purchase "Waiting Impatiently", log on to www.andrewhhousley.com.
CL: How did the idea for "Waiting Impatily" come about?
Oh: I have always been intrigued by the idea of ​​living in a Buddhist monastery and what it would be like to be isolated with myself. At the start of the pandemic, I was living with a friend. Life was full of uncertainty back then; we just sat and spent hours having long, in-depth conversations on various topics, from spiritual attachment to how to make yogurt. When everyone had to shelter in place, I took advantage of the opportunity of confinement as a makeshift monastery. It gave me time to examine my struggles with the human condition of attachment, personal history and how it causes us so much pain if we allow it.
CL: What makes this book different from other songs you've written? What connects it?
Oh: "Waiting Impatiently" was my first attempt at writing a novel. My second novel "Invisible Sun", which is scheduled for release this fall, is a kind of prequel.
CL: What can readers expect from "Waiting Impatily"?
Oh: Who am I to set reader expectations? I hope the reader finds an open, raw, funny and emotional exploration of the struggle of the human condition and the transformation that awaits us all if we open our eyes to see it.
CL: How does inspiration hit you?
Oh: Inspiration never comes fully formed or without a bit of a struggle. You have to prepare, open up and make yourself available to it. A constant presence is required.
CL: Do you have any writing rituals/best practices?
Oh: Creating a consistent ritual is essential for me. I schedule a time to write every day from 2-4 p.m. and stick to it. When my writing time starts, the first thing I do is turn off my phone. There is something very liberating about digital disconnection and creating space for myself.
Some days the words will flow and I can write pages, while other days I might scratch to finish a single seemingly disposable sentence. I try to treat the most prolific and sparse days with the same sense of equality by telling myself, "You did enough today, and that's great.
I scrape threads of ideas from half sheets of paper and leave them in a heap in my workspace if I get stuck writing; I read these threads and sometimes use them as starting points to weave the fabric of the story.
I never read what I write, never. So I don't edit. Editing is a slippery slope, and since I'm constantly mulling over the writing, I don't want to stop the process by continually questioning myself.
CL: What tips can you share with other budding local authors?
Oh: Be natural. Don't limit yourself to what you think the reader wants to read. Arrives every day with no wait. Work to cultivate within yourself the understanding that the immediate gratification of "success" or completion is not the end goal of the process. Just showing up is enough.
The world is full of cheerleaders like friends and family telling you that your work is great and worthy of awards. Your work is probably superb, and your "Rah!" Rah!" the support system is fantastic. Yet to truly excel in your medium, you need to surround yourself with professionals who can challenge you constructively and without judgment. Learn to receive feedback from people who understand support and the industry can greatly help you hone your tool as a writer.
CL: How has your environment influenced your work?
Oh: I spend a lot of time walking in the woods to soak in and collect my thoughts before each writing session. I believe it is imperative to have a dedicated writing space. Having time and space is integral to my success.
CL: What is your favorite thing about writing? Your least favorite?
Oh: I don't particularly enjoy reading what I write. I am my own harshest critic. I like to use the protagonists I create in my stories to explore possibilities for new directions, dialogues, or thought processes in my own life the same way an actor uses a character in a movie or play.
CL: Who are you currently reading?
Oh: No time to waste – Pema Chodron
CL: Why did you start writing? What prompted you to take the leap?
Oh: Synchronicity. The story came when I was emotionally and intellectually ready to articulate it. My partner Sujata encouraged me from the start. Without his support and trust in me, the story would never have been published.
CL: What/who is your all-time favorite book/author? Why?
Oh: There are so many for so many different reasons.
Siddartha – Hermann Hesse
Ask the Dust – John Fante
The Stranger – Albert Camus
Death on Credit – Louis-Ferdinand Celine
Soil Growth – Knut Hamsun
Black Rain – Masuji Ibuse
The Ring of the Path – Taisen Deshimaru
CL: What distinguishes your work from other authors of the same genre?
Oh: The unfiltered access to protagonist Ian's introspective, sarcastic, and heartbreaking voice is unique to the Spiritism genre. The reader can connect to his thoughts, interactions and metamorphoses in real time. I have found that rarely in literature is the male voice so vulnerable and accessible. Societal stereotypes tell us that men cannot be thoughtful, sensitive, or display emotions. We are fed garbage that we have to push away feelings, rub dirt on and suck it up.
The following is an excerpt from Andrew Housley's latest book "Waiting Impatily".
… I stop to reflect on the beauty in front of me. I climb on the thick trunk of an age-old tree in the shape of a hand. Sitting in the palm of this proud giant oak tree, its five large fingers reach up protectively, surrounding me. Farther on I can see the scattered clumps of dormant dogwood trees above the sparkle of a stream flowing water down the narrow serpentine spine of the hill to the river waiting in the distance. Twenty meters away stand the dead remains of a tree like the one I'm sitting on. His hollow limbs gripped the heavy chains of thick green vines, slowly overtaking him, dismantling him and dragging him back to Earth. An immense sadness came over me.
I think of the two trees; which they had witnessed during their 100 years of existence. Unexpectedly, they accidentally caught life at the same time. They have been through periods of drought, pollution, heavy rains, high winds and more than an inconsiderate dog together. They most likely suffered, but continued through this period, becoming more resilient to the shadow of each other's growth support. At some point, whether through lightning or illness, a life companion gave way to death. Leaving the other alone in this beautiful cursed place to see his partner disintegrating little by little. I cry tears of despair; the nature of time can be so cruel.
Protected inside the healing hand, I fight for stillness but quickly give up my attack. Eyes closed, I surrender little by little to the power and energy of the place. My mind is flooded with koans.
"Am I like this mighty oak tree? What is my true nature when I think of this tree?
"Will I get through this time of uncertainty and continue to thrive?"
"Am I doomed to live this life alone?"
"Will I get to the other side any other way?"
"Yes, I will be unable to hide the twists, knots and broken limbs that come with this change. Wear them as a badge of honor.
My heart swells with sympathy. Effortlessly, I tune into that feeling, wrapping my arms around her, feeling the warmth of her grip. In this caress, I am lifted. Like the wind through the trees, my soul screams to be free, and thoughts of my father, his painful dance with the nature of time, invade the wasteland of my mind.
A text from my dad. "I die." Simple, direct, devoid of emotion, and a fact, the only way he knew how to communicate. He never texted or called, for that matter. We hadn't spoken to each other for years. Some things were better left unsaid.