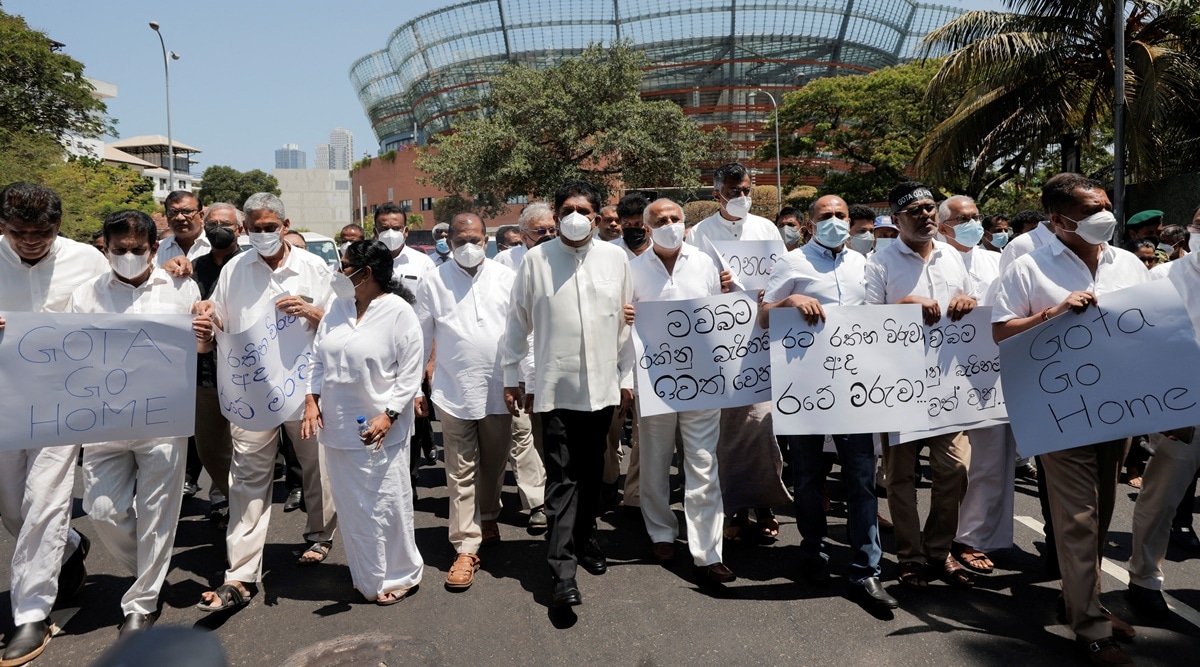 President invites opposition to join government, appoints new ministers
A Sri Lankan man shouts anti-government slogans during a protest outside the private residence of the Sri Lankan president on the outskirts of Colombo, Sri Lanka, Thursday, March 31, 2022. (AP)
Opposition lawmakers, led by their leader Sajith Premadasa, had embarked on a march to Colombo's iconic Independence Square, defying a government-imposed curfew on Saturday, ahead of the protest scheduled for Sunday. The protest was organized by social media activists against the current economic crisis and the hardships plaguing people due to shortages of essential goods. A total of 664 people were arrested in Western Province on Sunday.
Meanwhile, the Sri Lankan government on Sunday lifted a ban it had imposed on social media platforms such as WhatsApp, Twitter, Facebook and Instagram after declaring a national public emergency and imposing a 36-hour curfew. . The services of Facebook, Twitter, YouTube, Instagram, TokTok, Snapchat, WhatsApp, Viber, Telegram and Facebook Messenger were restored after 3 p.m., according to an official. The services had been completely or partially blocked.
'Can we eat money?': High prices, low supply, desperation in Lanka
Vani Susai, a 31-year-old teacher who works in Batticaloa, in the Eastern Province of Sri Lanka, remembers the first signs of the economic crisis in the last week of January. "This Sunday morning, I ran out of gas. I called the agency to check if there was a bottle and was told they could not deliver it for several days. I went looking for one, going from store to store. I finally found a bottle after three hours.
Two months later, the cooking gas supply dropped to once a week. "Everyone goes to this place on Sundays and queues which start forming at 4am.
They give out 300 tokens at a time, while the queue is over 1,000 people," says Susai, adding that as a working woman and mother, she cannot waste time waiting in line. Her husband works in the Gulf. "If I have the chance, I will leave."
Last week, Tamil Nadu took in more than a dozen people who had fled Lanka under the same economic hardship. The country is facing one of its worst economic crises, battered by the April 2019 Easter Sunday blasts, two waves of Covid and now the Russian-Ukrainian war. The setbacks have hurt the tourism industry which is the foundation of the Lankan economy. The island country which imports almost everything from abroad is struggling to manage its supplies.