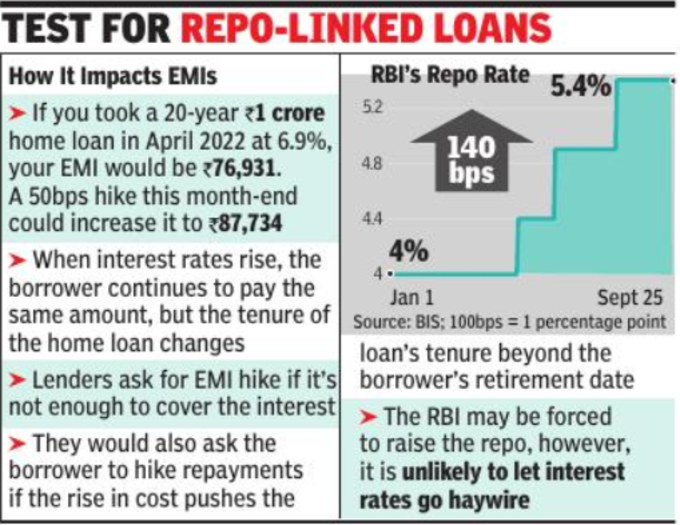 RBI is preparing to raise the repo rate again, you know how much your rate will go up
New Delhi:
RBI's Monetary Policy Committee (MPC) meets this week. It is assumed that the repo rate can be raised another 50 basis points. The US Federal Reserve has raised interest rates by 75 basis points for the third time in a row. This has put pressure on the rupee. At the same time, retail inflation rose again in August. In such a situation, economists believe that the RBI could announce an increase in the repo rate on Friday. The RBI has hiked the repo rate by 1.40 percent since May in a bid to control inflation. The repo rate has increased from 4 percent to 5.40 percent during this period. If it rises by 50 basis points, the repo rate reaches 5.90 percent. The banks also increase interest rates and your credit rate increases.
The three-day session of the MPC, chaired by RBI Gov. Shaktikanta Das, begins on Wednesday and decisions made therein will be announced on Friday. RBI is believed to be able to raise the repo rate for the fourth straight day. In May, the repo rate was increased by 0.40 percent. After that, it was increased by 50-50 basis points in June and August. Retail inflation, based on the consumer price index, had moderated somewhat since May but rose again to 7 percent in August. The RBI accounts for retail inflation taking into account the repo rate.
by how much does the rate increase
This is the first time the impact of the repo-linked lending rate on customers is becoming apparent. Repo is the interest rate at which the RBI lends money to banks. The repo-linked lending rate was introduced in October 2019. The benefit of the rate cut didn't resonate with customers. That is why RBI adopted this system. When the RBI lowered the repo rate to 4 percent early in the pandemic, customers benefited. But after that, the central bank had to raise it to control inflation.
US Fed interest rates: The US Federal Reserve has raised interest rates for the third time in a row, and tension will also increase in India.
If a person took out a home loan of Rs 1 crore at 6.9 per cent interest for 20 years in April 2022, his rate would be Rs 76,931. But after the 50 percent increase in repo rate, it will rise to Rs 87,734. Madan Sabnavis, chief economist at the Bank of Baroda, said inflation could remain around 7 percent. In such a situation, an increase in the repo rate is safe. SBI had said in its special report that a 0.50 percent hike in interest rates was on the cards. The repo rate can be as high as 6.25 percent. Experts say that as the repo rate increases, banks will increase interest rates on home loans.