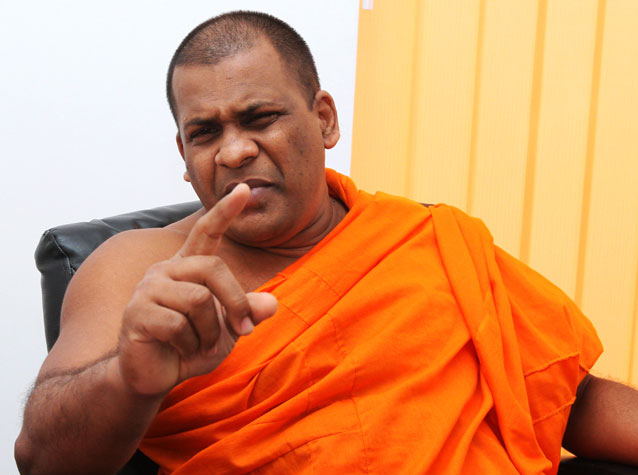 Saudi Arabia welcomes racist Sri Lankan monk to fight 'religious extremism'
Renowned Sri Lankan Buddhist monk Galagodaaththe Gnanasara was welcomed by Saudi officials in Riyadh as the kingdom offered support to stamp out "religious extremism" in Sri Lanka.
Gnanasara had been invited for a two-day visit apparently at the request of Saudi Crown Prince Mohammed Bin Salman. However, a senior BBS (Body Bala Sena) representative, Dilantha Withanage, refuted the claim pointing out that they were not invited by Salman and had no discussions with him or the MoD. regarding religious extremism in Sri Lanka. He did not reject his presence in Riyadh during the discussions at the highest level.
Gnanasara, a former convict, is known for his bigotry and violence, having been convicted of threatening the wife of Prageeth Eknaligoda; critic of the then government in 2010. He was released from prison following a presidential pardon.
In October 2021, he was tasked with leading the Sri Lankan President's controversial presidential task force focused on achieving "One Country, One Law". A task force which has come under heavy criticism from human rights organizations and which the International Commission of Jurists says could be used to target minorities.
Gnanasara has come under heavy criticism for spreading hate speech and attacking religious minorities. In 2014, before the anti-Muslim riots, he told a cheering Sinhalese nationalist crowd in Aluthgama that "if a marakkalaya (Muslim) gets his hands on a Sinhalese, it will be the end of all." The resulting violence killed four people and left 80 injured, and hundreds homeless. Among the sites attacked were mosques, Muslim homes, businesses and even a nursery.
While the Body Bala Sena (BBS), Gnanasara's organization, has denied responsibility for the riots, it has repeatedly stoked fear among the Sinhala public by warning them of the need to resist eradication. The BBS also has close ties to Myanmar extremist 969 and radical monk Wirathu, who are also criticized for stoking resentment against the Rohingya population.
Gnanasara has vehemently opposed Tamil rights to self-determination, threatening a "river of blood" last year.
"We will not allow the Tamils ​​to find a solution through decentralization. If they demand a separate state again, a river of blood will flow in the North and East.
The Kingdom of Saudi Arabia has also come under heavy criticism for propagating religious extremism through its promotion of Wahhabism, "a rigid, intolerant, highly dogmatic, puritanical and contrary to liberal values". In Foreign Policy, Farah Pandith, former (and first) Special Representative for Muslim Communities to the US State Department, wrote that "extremism is Riyadh's main export".
Read more here.