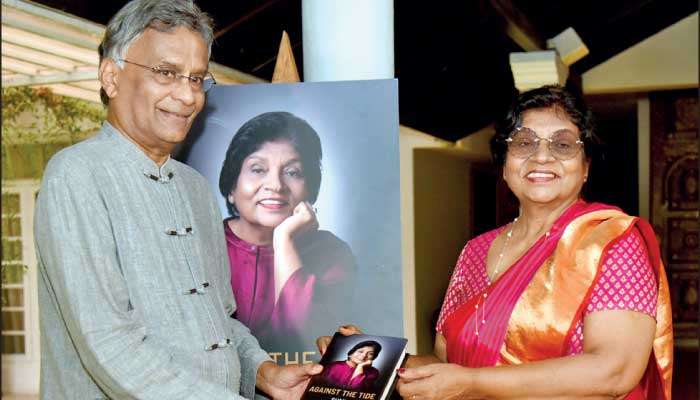 Sumi Moonesinghe Shares Her Life's Journey Via "Against The Tide"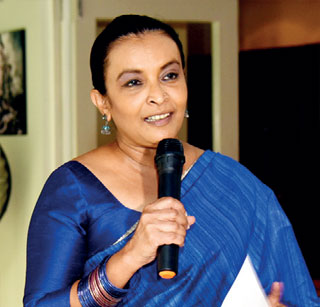 'Against the Current' Author Savithri Rodrigo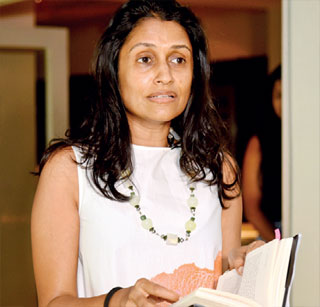 Anarkali Moonesinghe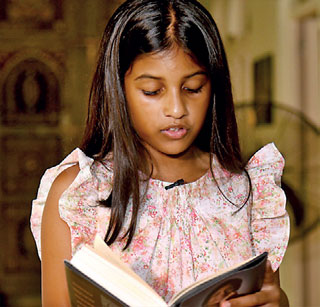 Talia Meewella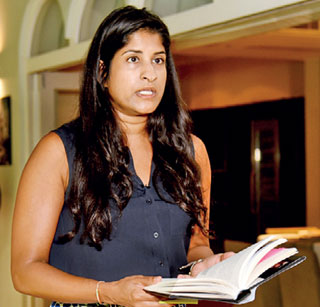 Anushi Meewella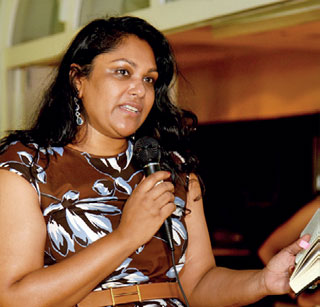 Minoli Rathnayake
First copy of 'Against the Tide' presented by Sumi Moonesinghe to architect Navin Gooneratne
---
Entrepreneur and professional Sumi Moonesinghe recently launched her autobiography "Against the Tide – My life's journey", narrated by Savithri Rodrigo in a simple ceremony with friends, family and well-wishers.
Against the Tide, as told by Sumi to Savithri, is fascinating. This is not an autobiography, but a hybrid version, which will leave more questions than answers to a reader who has not known it, says Professor Willie Mendis in the foreword. "Against the Tide is atypical of what life would suggest. This makes it a 'must read'," he adds.
The book identifies Sumi in many ways – bold, fearless, tenacious, impatient and generous.
Sumitra Moonesinghe is many things to many people, having led a diverse and storied life while blazing trails spanning multiple disciplines, continents and chapters in Sri Lankan history. Sumi, as she is affectionately known to her family, friends and colleagues, has brought her unique energy, tenacity and courage to everyone she meets and everything she touches. From entering and excelling in the field of engineering, a territory no woman had had the courage to venture into, to founding a dominating empire and creating new business opportunities in the country, and to create brands that single-handedly beat the well-established global competition turf, his way of doing things is simply, "Do it!"
Sumi carries her Kegalle roots with pride, while instilling deeply rooted Buddhist principles and family values ​​into her life. With these as her playbook, she walked estates, built empires and shaped opportunities for Sri Lanka. Since the 1960s, when she entered the all-male territory of the Faculty of Engineering, to beat the global competition to make Anchor a household name in Sri Lanka, to mentor men and women to holding on to their dreams, collaborating with great businessmen and adding insightful advice to the leaders of the country, Sumi has been integral in shaping people, businesses and the nation.
An uncompromising businesswoman who has integrated her engineering basics with the complexity of business, she clung to her femininity to be a wife, mother, daughter, sister and grandmother and yet remains the Sumi who was, is and will be – The woman who goes against the grain. It's his story.
Professor Willie Mendis in the foreword also says that the readability of Against the Tide lies in the fact that its content is told in three distinct parts intertwined with the essence of its entirety. It begins with the lucid explanation of Sumi's days in the rural village of Aranayake, under the loving guidance of her parents who were the leaders of her youth. Her educational transformation into an exceptionally brilliant electrical engineer who graduated from the University of Ceylon became the hallmark that endowed her future.
Her professional following at Radio Ceylon and the prestigious BBC studios in London, is entwined with classmate romance on campus, and eventually bonds with Susil whom she describes as "love at first sight". His subsequent meteoric rise in the business world was the "bright glow" of the previously mentioned Against the Tide kaleidoscope. The assertion of Sumi's business acumen by a host of high profile giants added a flavor that stories can rarely boast of.
Writer Savithri Rodrigo at the launch said in her work in the media for more than three decades, she has had the privilege of conversing with a range of personalities – all of whom have made an indelible mark on my professional life. "Telling their stories then becomes a very pleasant exercise. Although my interviews were in-depth and the articles and conversations ranged widely, writing down my thoughts on each of these tales is a process I enjoy because it means bringing something to life from the start," said said Savithri.
"Writing about people is therefore an adrenaline rush and more when I listen to the life stories of those like Sumi Moonesinghe who is truly 'a force of nature', as her daughter Anarkali aptly describes her", Savithri added.
– Photo by Ruwan Walpola