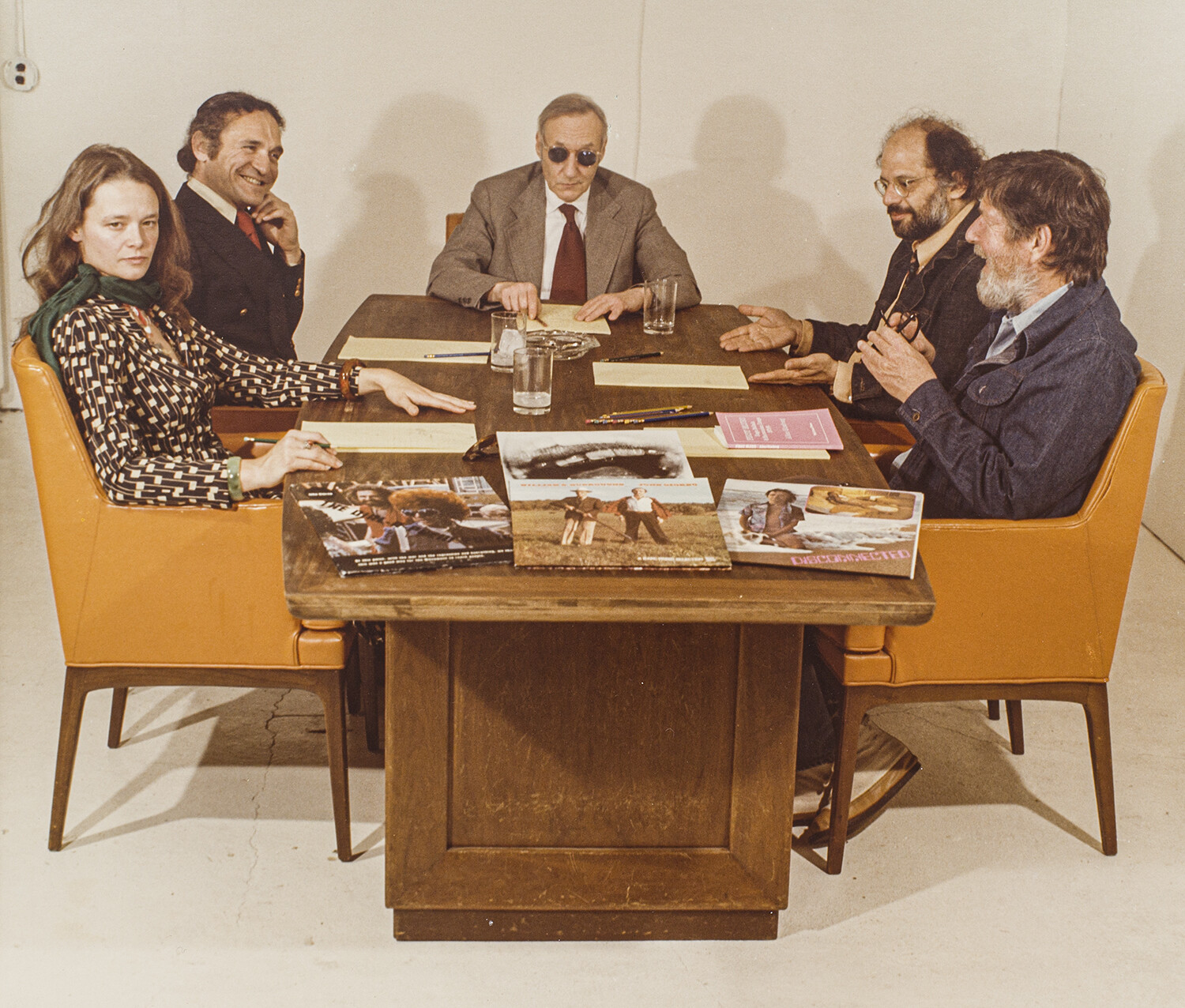 The Bunker: inaugural program – Announcements
The John Giorno Foundation is pleased to announce its inaugural season of programming at The Bunker located at 222 Bowery. The Bunker's program continues the John Giorno Foundation's mission to support living artists and the history of New York's avant-garde and gay communities. Reflecting the philosophy, activism and artistic achievements of John Giorno, the program will feature a wide range of artist talks, film series and performances. The Bunker offers a place of collaboration where artists of all generations can meet.
Just a Mirror at The Bunker is an inaugural lecture and film series curated by Bill Cournoyer for the John Giorno Foundation, set at the iconic historic site of 222 Bowery. Inspired by Giorno's reflection on poetics, personality and the social in contemporary society seen through the prism of artists, this program will bring together luminaries and reflect on works from the American playbook of poetry, art, music and of experimental cinema.
Monday, April 11, 7 p.m.
Raque Ford, virgil b/g taylor and Nora Turato in conversation with Ebony L. Hayes
John Giorno used language as a primary tool in his practice as a poet and visual artist. The artists Raque Ford, virgil b/g taylor and Nora Turato give an important place to writing in their respective practices. Ebony L. Hayes, Director of 52 Walker, will host a discussion with Ford, Taylor and Turato about how these artists use text in their performances and works to reflect the social and political issues of their generation and how they overlap with the art of John Giorno. artwork.
Monday, May 9, 7 p.m.
Drew Sawyer on Jimmy DeSana moderated by Jarrett Earnest
Drew Sawyer, Phillip Leonian and Edith Rosenbaum Leonian Curator at the Brooklyn Museum, will discuss the work of Jimmy DeSana (1949-1990) with Jarrett Earnest, curator and writer. Jimmy DeSana (1949–1990), photographer, emerged from the East Village art scene in the 1970s. In 1980, DeSana's collection of S&M photographs was published in his book Submission, which featured an introduction by William S Burroughs. DeSana's later work included images of New York's downtown avant-garde culture, particularly portraits of artists and cultural icons like John Giorno, William S. Burroughs, and Yoko Ono. In 1981, DeSana photographed the cover of John Giorno's LP, You're the guy I want to split my money with, a collaboration with Laurie Anderson and William S. Burroughs. Earnest, in conversation with Sawyer, will discuss the importance of DeSana's queer perspective in his work and how it set him apart from his peers; DeSana's representation of the body as central to her practice; and DeSana's use of documentation through the portrait.
Monday, June 6, 7 p.m.
Deadlines and divine distractions
Deadlines and Divine Distractions is an ongoing epistolary project co-edited by Negar Azimi, writer and editor of Bidoon, and Pati Hertling, Deputy Director of Performance Space New York. The project lives on the Internet where it collects irreverent letters between friends and strangers, living and dead. Time limit is a fiery expression of publishers' belief in and love for the (promiscuous) art of letter writing. In the spirit of John Giorno's practice of working collaboratively with artists throughout his career, The John Giorno Foundation is pleased to welcome Deadlines and Divine Distractions's latest project at the Bunker.
Monday, July 11, 7 p.m.
Rochelle Feinstein in conversation with Bridget Donahue and Candice Macey
Rochelle Feinstein began pursuing her artistic ambitions in New York in the 1980s, leading to her consideration of painting for decades. Feinstein's practice examines the language of abstraction, while humorously including text in his paintings. Feinstein always used a promiscuous approach to the appearance of his paintings, resulting in a diverse non-style. Her examination of painting has included experimentation with other mediums such as drawing, photography, printmaking, sculpture, video and installation. Feinstein was recently the subject of a six-location collaborative project with exhibitions in New York, Miami, Los Angeles, Paris and Zurich. Bridget Donahue and Candice Macey will discuss Feinstein's interest in language, abstraction, the development of his diverse non-style, and the importance of concepts like irony and authorship.
Monday, August 15, 7 p.m.
Performance by Justin Hicks and discussion with Kyle Dacuyan
Justin Hicks, multidisciplinary artist, composer and vocalist will perform a piece specially selected for The Bunker. Kyle Dacuyan, poet, performer and executive director of The Poetry Project, will discuss Hick's inspiration for performance and his diverse practice.

Film screenings
Monday, April 25, 7 p.m.

Burroughs: the movie (1983)
In 1976, William Burroughs, fellow poet and friend of John Giorno, moved into the Bunker, a former locker room of the former YMCA and future home of Giorno Poetry Systems. A bedroom was built for Burroughs in the space and remains intact today. In honor of Burroughs' legacy at The Bunker and 222 Bowery, and as a significant contributor and collaborator to Giorno Poetry Systems, we are pleased to announce the screening of the film Burroughs: the movie (1983) directed by the late Howard Brookner. After Brookner's death from AIDS in 1989, Giorno personally saved the film, housing it at 222 Bowery until it was restored by Brookner's nephew, Aaron Brookner, and distributed by Criterion in 2011. The film includes guest appearances by Allen Ginsberg, John Giorno, Herbert Huncke, Patti Smith and Terry Southern.
Monday, May 23, 7 p.m.

Flaming Creatures (1963)
The Bunker is pleased to present the legendary underground film Flaming Creatures directed by Jack Smith. Flaming Creaturesfilmed in the Bronx, officially premiered at the Bleecker Street Cinema in Greenwich Village, New York in 1963. John Giorno attended this premiere with his then-lover Andy Warhol and described the experience in his memoir, Great Demon Kings. Police raided the theater and confiscated the film which was later banned in 22 states. The raid put the film and Smith in the spotlight. The banning of the film became part of the battle against censorship waged in the United States at this time. Downtown luminaries like Jonas Mekas, Susan Sontag and Allen Ginsberg have come to the defense of the film and the director. In 1989, Penny Arcade and J. Hoberman had the film restored. Described by Smith as "a comedy set in a haunted music studio", Flaming Creatures went against the norms of society and cinema, becoming a radical example that inspired other artists and filmmakers like Andy Warhol and John Waters. Smith did not use a narrative; the sets and special effects were homemade; and the actors were non-professionals. Its meaning today is based on Smith's vision of highlighting the fluidity of gender, sexuality and identity at a time when these topics were rarely discussed.
Monday, June 20, 7 p.m.
Dual functionality: match girl (1966) and Scenes from the life of Andy Warhol (1982)
John Giorno first met Andy Warhol in 1962, at the opening of Warhol's first solo exhibition at the Stable Gallery. They had an immediate connection and quickly became lovers, immersed in the vibrant energy of the avant-garde New York scene of that time. As Giorno writes in his memoirs, "That year Jonas Mekas coined the term and coined the phenomenon called 'underground cinema'. It brought together a generation of young filmmakers… [and] rented small, ramshackle theaters around town that turned out to be empty for the night. By word of mouth, everyone came. Andy and I went to the movies one, two or three times a week, every week for a year. Warhol himself was the subject of numerous Mekas film diaries from 1965 to 1982, which led to the creation of Mekas' star-studded compilation film. Scenes from the life of Andy Warhol. Around the same time, Andrew Meyer filmed match girl in collaboration with Warhol; it depicts the "fantastic experiences of a budding young actress realized in color and with dandy musical accompaniment by the Rolling Stones". —Bosley Crowther, The New York Times
Monday, July 25, 7 p.m.
Psychedelic 1960s Shorts: Featuring Works by Barry Spinello, Stan Brackhage, Marie Menken, Stan Vanderbeek, Donna Deitch, Storm De Hirsch and Jud Yalkut
This compilation of 60-minute films highlights some of the most dynamic experimental short films of the 1960s by artists both within and outside of John Giorno's artistic orbit. Many of these works are abstract, with bold interventions etched, painted or pasted onto the surface of the film itself; it includes classics such as Stan Brakhage moth– which features real moth wings glued to a clear film journey – and ends with Jud Yalkut's 24-minute masterpiece on Yayoi Kusama. Full program: Barry Spinello, Sonata for feather, Brush and Ruler, (1968, 10 mins); Stan Brakhage, moth (1963, 4mn); Mary Menken, Eye Music in major red (1961, 6 min); Stan Vanderbeek, POETIC FIELD 2 (1966, 6 min); Donna Deish, She was a visitor, (1963, 2mn); Hirsch Storm, Peyote Queen, (1965, 9 minutes); Jud Yalkut, Kusama self-erasing(1974, 24 mins).

Gatherings
Buddhist programming
Tibetan Buddhist Ceremony: We welcome the Catskill Monastery, Padma Samye Ling Monastery (PSL), to our home as part of The Bunker's monthly program. John Giorno, Yeshe Dorje (Indestructible Wisdom), met His Holiness Dudjom Rinpoche, head of the Nyingma school of Tibetan Buddhism in the early 1970s, and became a devoted and loyal disciple. Since the late 1980s, the Bunker has been used by lamas to give teachings and perform ceremonies. The series will begin with the return of ceremonies and teachings from the Padma Samye Ling (PSL) Monastery to the Bunker on March 5.
Yoga
Iyengar yoga class with David Rubeo
On the first Saturday of each month, David Rubeo, Certified Iyengar Yoga Instructor, will give a class at The Bunker. "The yoga system known as Iyengar Yoga was created and developed over 75 years ago by Yogacara BKS Iyengar. Mr. Iyengar has dedicated his life to evolving his approach to yoga, which is based on the traditional eight limbs of yoga taught over 2,500 years ago by sage Patanjali. Mr. Iyengar believed that yoga was more than a physical discipline – it is also an art, a science and a philosophy, which he developed with this in mind. Classes will take place on the first Saturday of each month starting March 5.