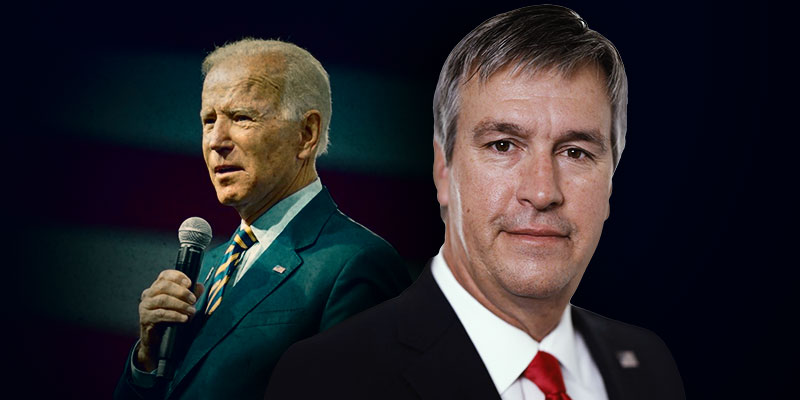 US Representative Barry Moore slams Biden and House Democrats over 'socialist tax-and-spend agenda' amid inflation crisis
In a speech to the U.S. House of Representatives on Wednesday, U.S. Representative Barry Moore (R-Enterprise) lambasted the Democratic Party's ambitious spending plan at a time when inflation has peaked in 40 years.
Moore pointed to recently released consumer price index (CPI) statistics, which showed prices jumped 7% in December.
"Today the latest Consumer Price Index numbers were released, confirming what any American shopping for gas, groceries or other basic necessities already knows. over the past year, the CPI is up 7%," Moore noted. "That's the highest rate of inflation in four decades."
The South Alabama congressman noted that as inflation concerns grew, the Biden administration dismissed soaring prices and insisted it was just a a short-term problem.
"The last time we saw inflation like this, the University of Georgia football program had already begun its historic 40+ year championship drought that only ended this week. This disaster could have been avoided, could have been avoided," Moore added. "But last July, despite economists insisting it was a fantasy, the Biden administration dismissed inflationary concerns as merely a transitory downside."
He continued, "Of course, Biden — or at least his string pullers — knew better, but he didn't want the disheartening economic realities facing American families to get in the way of his massive socialist tax-and-spend agenda. You don't need an economics degree to know that trillions of additional dollars in government spending will drive up inflation. Unfortunately, that is exactly what we are seeing.
President Joe Biden's flagship legislation, the so-called "Build Back Better Act", was passed in November by the lower house of Congress. However, the social spending plan ran into a hurdle in the Senate after U.S. Sen. Joe Manchin (D-WV) declined to back the bill due to its $1.75 trillion price tag.
According to Moore, if the president's priority legislation were signed into law, it would further exacerbate the country's inflation problems.
"But if the Biden administration and House Democrats get their way and embrace their harmful Build Back Better agenda with trillions in extra spending, inflation will soar like never before. Americans are suffering. We must defeat the Democratic agenda, restore sanity, and take meaningful action to combat record inflation that is crushing American families and businesses," Moore concluded.
Dylan Smith is a staff writer for Yellowhammer News. You can follow him on Twitter @DylanSmithAL