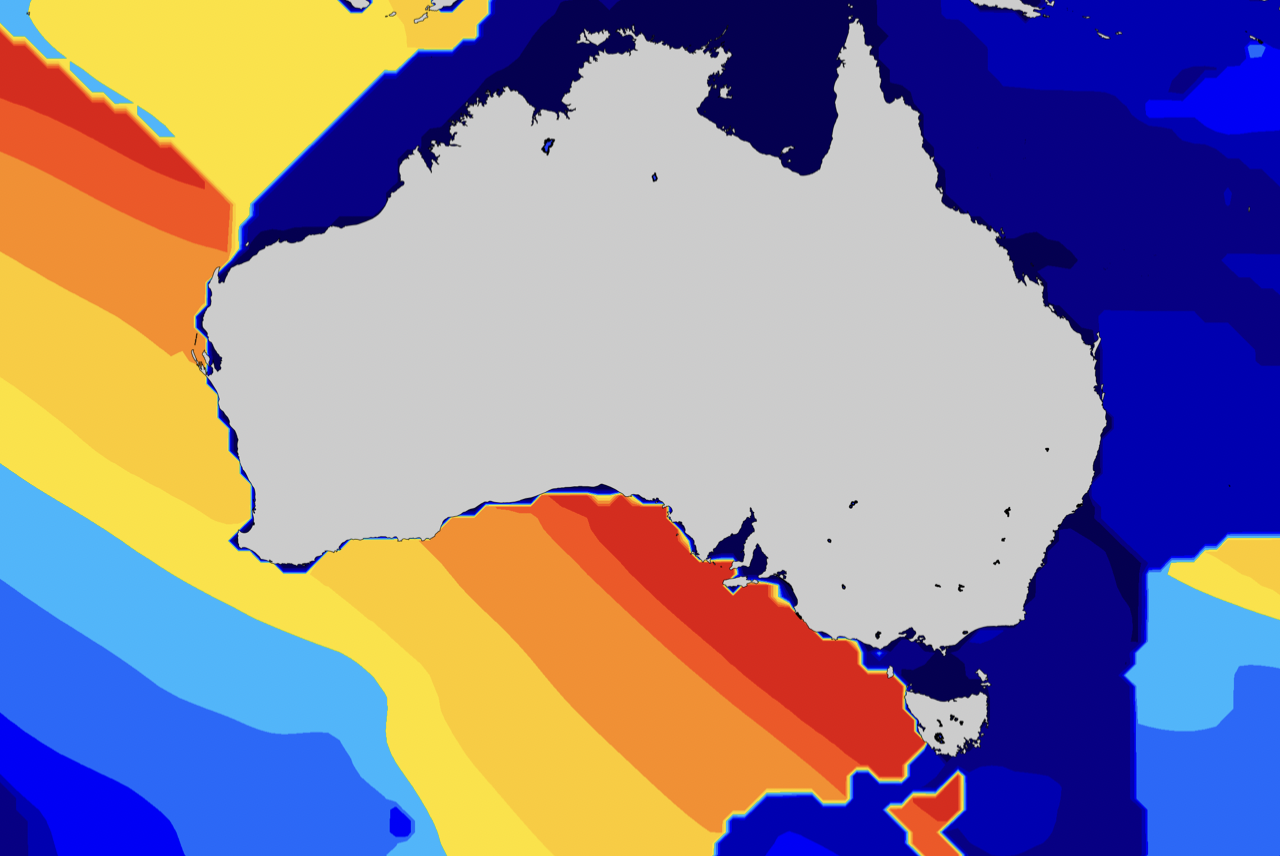 Victoria Outlook: an extended pre-Christmas surf series on the way
Long Range Storms Activating WA SW

First pulse felt in Vic at the end of the day on Sunday

More to follow, with good conditions to start
Forecasts related to this Outlook: West of Vicco | Surf Coast | Mornington / PI | Vicco East
Above: 168 hour Lotus swell animation for the Australian region. Notice the first long-range pulse that comes in, and then the second, stronger, closer thing that builds up for the next week. Surfed for Christmas!
Victoria is about to have a solid lead towards Chrissy's break. The southern Indian Ocean storm track resumes its course this week, meaning serious swells aimed across the bay and headed for Victoria ahead of the holiday. Expect the SW exhibits to light up with a series of exceptional summer waves from the lower latitudes.
The first storm system is evolving in the southeast Indian Ocean basin today and will move east under the southern coast of Western Australia by midweek. Although WA will experience most of the swell energy, regional conditions will contend with land winds.
Victoria is in a better position away from the source of the storm and will see the first surge of the WSW swell this Sunday evening. Conditions line up on the surf coast for Monday as the winds subside and the deep-water WSW winds up in protected breaks. We should see a good morning in classic conditions, with a clean head up and some aerial surf. Waves are expected to hold on Tuesday, just as the next larger storm intensifies to the southwest.
A secondary polar storm is expected to accumulate and spread in great proportions in our southwestern swell window next Sunday and Monday. The polar low, forecast at around 939 mb, will extend over the same area of ​​the southeast Indian Ocean, however, this storm will extend further east below the Great Australian Bight early next week . On Monday, the storm looks more like a classic winter setup on the charts.
A doubling of the SW swell on a large scale will head to Victoria and delay surfing for the second half of next week. Early forecasts indicate that the low pressure system is taking off towards the southern Tasman Sea just as its swells build up on the surf coast late Wednesday and early Thursday. Stay tuned for the forecast to check the progress of this extended wave series.