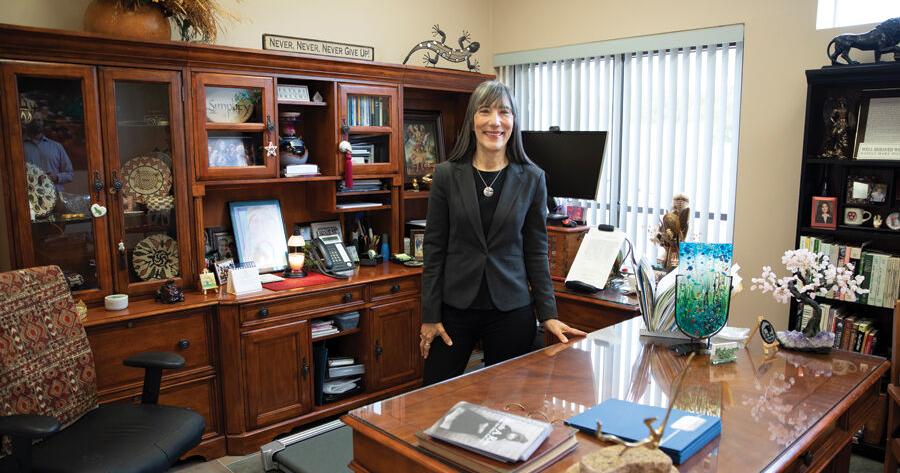 What's in Your Office: Deborah Cowman, Executive Director, Brazos Valley Museum of Natural History | Brazos 360
ROB CLARK

Deborah Cowman takes the concept of being active seriously in her office at the Brazos Valley Natural History Museum.
The executive director of the museum has a conveyor belt that leads to a standing desk. So when she works on her computer most of the time she walks too.
"It keeps me more alert," she says. "I am more tired if I sit a lot. You have to get up and move. I rarely call my staff, I just go wherever they are. I am getting older, I have to keep moving. Use it or lose it. So it's part of my goal to be healthy.
Born in Panama and raised in Iowa, Cowman came to Texas to work at the Houston Museum of Natural Science. She attended Texas A&M for her Masters and PhD in Wildlife and Fisheries Sciences with an emphasis on eco-toxicology.
Cowman joined the museum in 2008 and describes his role as a mixture of fundraising, grant writing, networking, marketing and research. She describes her office as "very eclectic", in part thanks to the influence of her father (part Cherokee) and her mother (part Indian from Central America).
The museum aims to educate, motivate and inspire, she said.
"I think the best part of my job is seeing that bulb light up in a kid's face when he walks into the gallery with his parents or he's in one of our classes," says -she. "Because we are celebrating our 60th anniversary this year, we have people returning who are now professional scientists, or who have entered the museum field, tell us that they got their start here. It was the place that turned them on. This is what really motivates me to preserve what we have for future generations.